WELLNESS.
IT'S WHAT WE DO.
OUR GUIDING PHILOSOPHY
Wellness looks different to everyone. Some find bliss connecting with nature during a hike in the Sonoran desert, while others rejuvenate through the peaceful practice of yoga or meditation. Swimming laps may be more your style, or perhaps it's cultivating your creativity through art or music. At Splendido, opportunities abound for enhancing your personal well-being.
WE CALL IT CONTINUWELL™
As part of our commitment to continued innovation, we use an evolved approach to whole-person wellness, one that's backed by scientific research. It's called ContinuWell™ and it's the guiding philosophy behind our individualized wellness programs.
MIND, BODY & SOUL
True wellness goes beyond a person's physical health. Numerous factors, such as emotional health, intellectual stimulation, environmental influences, social engagement, and spirituality are among the pieces that make up whole-person well-being. Our offerings reflect all of those elements.
ONE HOLISTIC APPROACH
Based on Mather Institute's unique Person-Centric Wellness Model, the framework of ContinuWell™ takes into account how the empowering drivers of autonomy, achievement, and affiliation work hand-in-hand to deliver a full spectrum of fulfillment. Together, these factors provide you the ability to achieve your desired potential and aspirations.
LIVE YOUR POSSIBILITIES
At Splendido, there is a vast array of possibilities for your wellness journey, whatever that may be. Some options include:
experiencing a new medium in our Open Art Studio
exploring mindfulness in nature with practices that incorporate sound, movement, meditation, and creative writing
joining a group fitness class to focus on balance, strength, and cardiovascular health
learning something new—or teaching—through the Splendido Intellectual Pursuits Program
embarking on a process of self-discovery with our specially trained Wellness Coach
calming your mind with sound waves and vibrational therapy in our Gharieni Welnamis spa wave bed
connecting with friends on our inviting terrace as the sun sets on the Catalinas
Each person's wellness journey is unique
This important evolution in our approach to wellness considers the many factors that contribute to a person's quality of life on three levels:
Achieving individual wellness starts with straight 'A's
While each person's wellness is unique to their life experiences and influences, research has identified three contributing drivers within this model that play a significant role.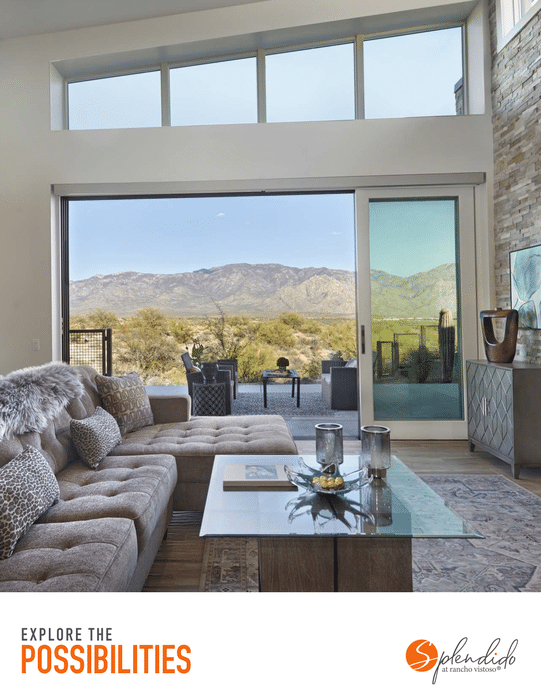 Discover life at Splendido
with photos, floor plans, and more
Get an inside look at our Life Plan Community
Review the monthly cost calculator
Explore Terrace and Villa Home floor plans
Upon submission, you will instantly receive the guide and get a copy in your email.