A plan for tomorrow
Splendido is an amenity-rich Life Plan Community (formerly called a Continuing Care Retirement Community or CCRC) for those 55 and better, where people live independently, with additional health care services available, should the need arise. This ensures that you can essentially "age in place," having planned ahead in terms of access to additional services and the cost of long-term care. Think of it as peace of mind, should your health care needs change somewhere along the way.
More choices. More freedom. More opportunities.
We've combined spacious floor plans with long-term assurances such as investment protection and on-site health care, so you can relax and enjoy all those things you love the most… knowing there's a plan in place for the future.
Be More Prepared for "Someday"
A refundable investment (with a guaranteed refund within a maximum of 120 days)
A full-service lifestyle, for one predictable monthly cost
On-site health care services like skilled nursing and memory support (if ever needed)
How it works financially
When you choose to live at Splendido, you pay a one-time Entrance Fee, which is guaranteed refundable. We offer various refund options for your one-time Entrance Fee*, including 90%, 80%, 50%, and 0%, allowing you to select a program and price that best suits your needs.
You'll also have a choice of two long-term care protection plans: the 90-Day Plan or the Life Care Plan. They are part of your Monthly Fee, which covers a host of services, programs, day-to-day home maintenance, and the Culinary Club Plan. This simplifies your finances and provides, in essence, full-service living for a predictable cost.
* Entrance Fee program is subject to change. Not all refund levels are available on every home.
HEAR WHY GEORGE & GABRIELLA CHOSE SPLENDIDO
Levels of care—what's available to me if I need it?
Sonora, our award-winning, on-site health center provides assisted living, memory support, Medicare-certified skilled nursing, and rehabilitation services in an intimate residential environment, if you ever need them.
Financial security and peace of mind
Take care in knowing that in the years ahead:
You have a plan in place, and you'll continue to be in control of your lifestyle.
You won't be a burden to family or friends because of unexpected health or financial issues.
If you do experience health issues, you've already made plans to receive quality care.
You've avoided the worry about unexpected changes in living expenses and health care.
Is a Life Plan Community for me?
While some people feel that moving to a community like ours is something they need to do, people who move to Splendido are moving here because they want to! And, quite honestly, one visit is all it takes to see why. Splendido transcends the typical Life Plan Community experience in countless everyday ways. You can read about many of them here, but some you have to experience for yourself.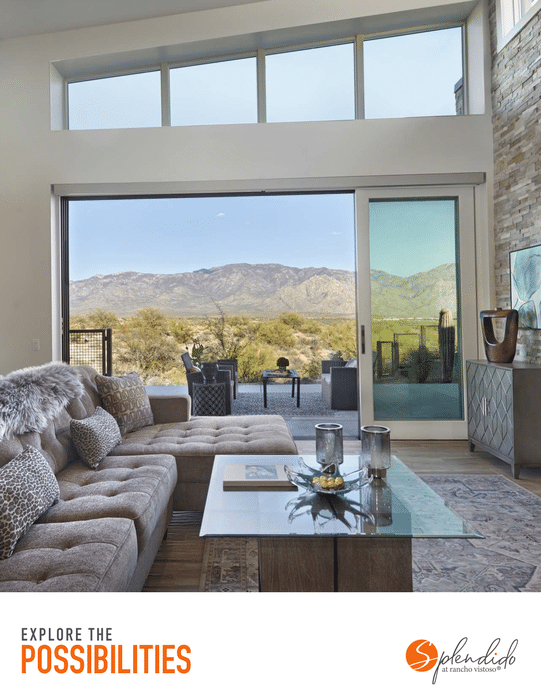 Discover life at Splendido
with photos, floor plans, and more
Get an inside look at our Life Plan Community
Review the monthly cost calculator
Explore Terrace and Villa Home floor plans
Upon submission, you will instantly receive the guide and get a copy in your email.